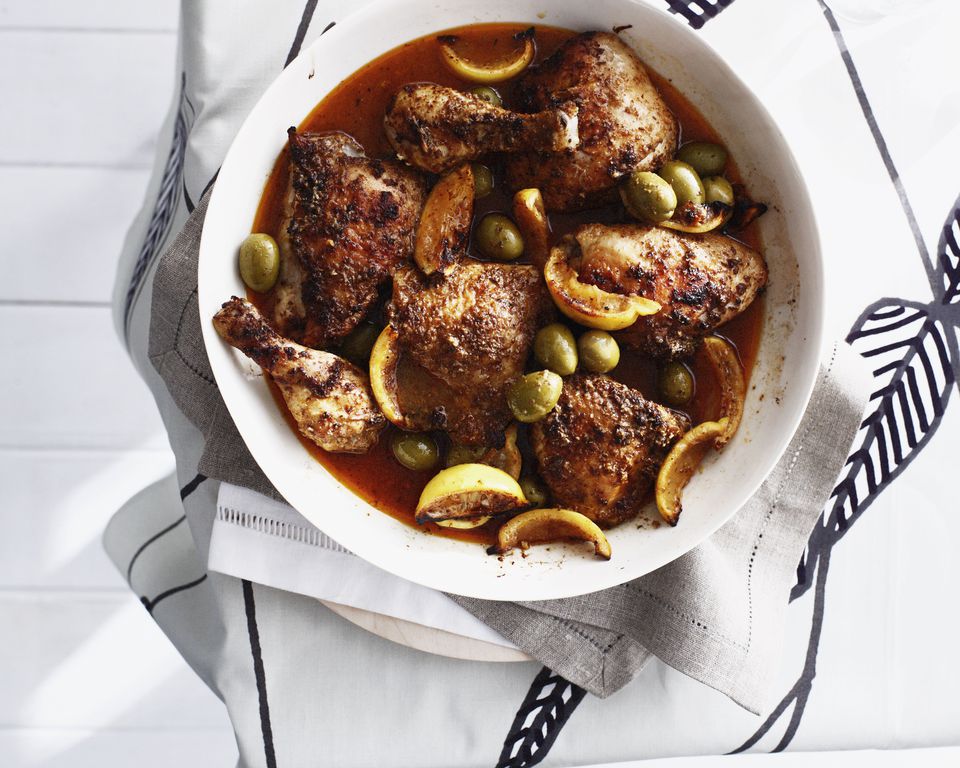 Why is chicken so incredibly popular on Jewish tables around the world? Maybe it's that it's among the few kosher bird species that is widely domesticated. Perhaps it's that historically, chicken has been a more readily available and affordable source of animal protein than beef, lamb or sheep. Maybe people just find them tasty. Whatever the reasons, one common thread–and perhaps a major factor in why these dishes became iconic–is that many were reserved for Shabbat and holidays,…MORE which both elevated their status and turned them into a traditional fixture of the communities that developed them.   
01
of 08
Chicken Matzo Ball Soup

Chicken soup has a near-universal appeal; recipes for the golden elixir are found in cultures around the world. But if there's a version with major crossover recognition, Chicken Matzo Ball Soup, aka "Jewish Penicillin," is a top contender. The Ashkenazi classic is oft cited as the epitome of an iconic Jewish food (though as a diaspora cuisine, Jewish food culture is remarkably broader). But what's also interesting is that the matzo meal-based dumplings that set this soup apart…MORE make a decidedly niche holiday ingredient a year-round fixture on grocery shelves. 

02
of 08
Roast Chicken

Whole roasted chicken is a fixture on countless Friday night Shabbat dinner tables, but why? One important factor is that historically, access to meat was a luxury for many, and was therefore often reserved for Shabbat. Traditionalists may make it the same way week after week, but the beauty of roasted chicken is that once you've mastered the basic technique, it's an easy recipe to adapt. Take a no-frills approach, as with this Simple Roast Chicken; surround your bird with seasonal…MORE vegetables or punch up the flavor with aromatics like citrus and spices, as in this Persian cuisine-inspired recipe. 

03
of 08
Israeli Chicken Schnitzel

Schnitzel, a German dish traditionally made with veal, is incredibly popular in Israel, where immigrants from Germany adapted the recipe using chicken, vegetable cutlets and even tofu. But breaded, pan-fried chicken cutlets are perhaps the most iconic version, though oven-baked schnitzel is common as well.     

04
of 08
Moroccan Chicken With Lemon and Olives

A staple of the Moroccan Jewish Shabbat table, Chicken with Preserved Lemon and Olives is a wonderfully aromatic dish. Though traditionally cooked in a tagine, food historian and writer Tori Avey offers stovetop instructions, along with lots of helpful tips for making the iconic dish. Serve it over steamed couscous, which will sop up all of the delectable sauce. 

Prefer a baked version? Try this recipe; if you can't find kosher-certified preserved lemons, you can make your own. Just remember…MORE it takes about a month before they'll be ready to use, so plan ahead!

Continue to 5 of 8 below.

05
of 08
Plov

Plov, the national dish of Uzbekiztan, is also a signature dish of the Bukharan Jews of Central Asia. Often slow cooked in a wood burning oven, it is served to guests as a symbol of hospitality, for holidays and at special life events including weddings. There are lots of variations on plov, but the Bukharan version eschews dairy ingredients and non-kosher meats in favor of oil and lamb, beef or chicken. Special occasion additions to the layered dish can get quite elaborate, though this simple…MORE chicken version is easy enough to make on a weeknight. 

06
of 08
Gondi

The cuisine of Iran's Jews and Muslims is strikingly similar. But gondi (sometimes spelled gundi)–dumplings made from ground chicken and chickpea flour–are among the distinctively Jewish contributions to Persian cuisine. Seasoned with cardamom and turmeric, gondi are often served in chicken soup that's flavored with limoo omani, or dried limes, which gives the broth a distinctive piquant flavor. They may also be served sans broth, as an appetizer. Like many of the other dishes on this…MORE list, they're a fixture of the Shabbat dinner table.

07
of 08
Doro Wat

Doro Wat, the national dish of Ethiopia, is also the traditional Shabbat dish of the Beta Israel Jews. The slow cooked chicken stew features lots of onions, spice and whole in-shell eggs that cook in the stew. If you give this Doro Wat recipe a go, opt for oil if you want to keep things kosher.

It's interesting to note, though, that because the Ethiopian Jewish community was both ancient and isolated, the Talmudic-era prohibition against mixing dairy and chicken was not historically observed,…MORE and using niter kibbeh, a spiced clarified butter, would not have been forbidden in that community.

08
of 08
Tabit

For Iraqi Jews, Tabit–a casserole of slow cooked chicken, rice, tomatoes, spiced with baharat and dried mint–is a must-have for Shabbat. It is traditionally cooked overnight, as in Israeli food writer Janna Gur's take on the recipe. If you want to give the dish a try, but don't have the time or inclination for a long, slow overnight bake, this Short Cut Tebit recipe comes together in about an hour.