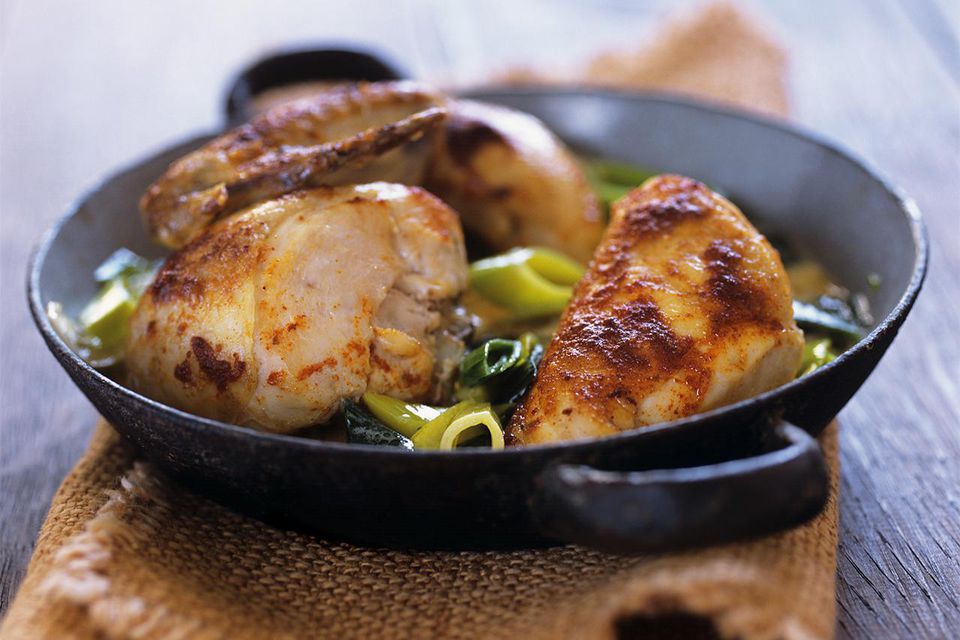 If you need to get a tasty, healthy meal on the table but just don't have a lot of spare time, these simple recipes using chicken breasts are great choices. The list includes recipes using boneless and bone-in chicken breasts.
Choose from chicken casseroles, light, and easy oven fried chicken, basic baked or roasted chicken breasts or quick skillet recipes.
01
of 35
Chicken With Bacon and Pepper Jack Cheese

Boneless chicken breasts are baked with a topping of barbecue sauce, bacon and pepper jack cheese. This easy entree is ready in under 30 minutes.

02
of 35
Simple Fried Chicken Breast Cutlets

These fried chicken breasts will be an instant hit! Some hot sauce and Cajun seasoning provide flavor.

03
of 35
Paprika Chicken Breasts With Sour Cream Gravy

These split chicken breasts are seasoned and baked to perfection with sliced onions. 

04
of 35
Easy Skillet Chicken With Veloute Sauce

The easy veloute sauce is a great way to elevate simple sauteed boneless chicken breasts.

Continue to 5 of 35 below.

05
of 35
Basil Chicken With Pesto Cream Sauce

Pesto flavors these simple skillet chicken breasts. Heavy cream is added to make a creamy sauce. Serve the chicken with hot cooked pasta.

06
of 35
Simple Oven Fried Chicken Breasts With Garlic

This is a no-frills recipe, but it doesn't lack flavor. Some garlic powder and paprika flavor the chicken along with salt and pepper.

07
of 35
Easy Skillet Chicken With Bacon and Sour Cream

All your favorite flavors in a classic loaded baked potato are the toppings to this chicken meal.

08
of 35
Chicken and Zucchini With Garlic Cream Sauce

The zucchini is cooked along with the chicken breasts in this recipe. The garlic cream sauce is a combination of cream cheese, garlic, and chicken broth. 

Continue to 9 of 35 below.

09
of 35
Chicken Breasts With Creamy Parmesan Sauce

These sauteed boneless chicken breasts are served with a creamy Parmesan cheese sauce.

10
of 35
Oven-Roasted Chicken With Pepper Jelly Glaze

A super simple pepper jelly glaze adds flavor to these simple roasted split chicken breasts.

11
of 35
Chicken With Wine and Tomatoes

Here's another quick and easy skillet chicken recipe made with chicken breasts, mushrooms, tomatoes, and a little wine and garlic. This makes a wonderfully busy day meal, and it's great with rice or pasta and a salad.

12
of 35
Chicken With Creamy Curry Sauce

A tasty curry sauce flavors these boneless skillet chicken breasts. Serve this chicken with hot cooked rice or roasted potatoes for a tasty everyday meal.

Continue to 13 of 35 below.

13
of 35
Easy Chicken Florentine Bake With Spinach Souffle

.Convenient frozen spinach souffle, bread crumbs, and Parmesan cheese makes these boneless chicken breasts

14
of 35
Peach Glazed Chicken Breasts

Peach preserves, balsamic vinegar, and spicy mustard are combined to make a tasty sauce for these boneless chicken breast halves. The chicken is glazed about halfway through the baking time.

15
of 35
Chicken Breasts With Tomatoes and Capers

These chicken breasts are sauteed and then finished with tomatoes, capers, lemon juice and chicken stock. The recipe includes some dry white wine, but you may substitute more chicken stock.

16
of 35
Fast and Easy Curried Chicken With Peanuts and Peppers

This easy curry is loaded with flavor. It's made with bell peppers, peanuts, and classic curry seasonings.

Continue to 17 of 35 below.

17
of 35
Baked Chicken Parmesan Dinner

Breaded and oven-fried chicken breasts are briefly baked with prepared spaghetti sauce and mozzarella cheese.

18
of 35
Chicken Marsala

This elegant, flavorful chicken dish is surprisingly fast and easy. Dinner in under 30 minutes!

19
of 35
Chicken Breasts With Leeks and Parmesan Cheese

This dish is easy enough for a busy day and fancy enough for company. Serve with mashed or baked potatoes or rice.

20
of 35
Baked Pineapple Chicken Breasts

​Pineapple juice and a variety of spices and seasonings flavor these simple baked boneless chicken breasts.

Continue to 21 of 35 below.

21
of 35
30-Minute Sweet and Sour Chicken

This sweet and sour chicken is a 30-minute dish that doesn't skimp on flavor.

22
of 35
Slow Cooker Chicken Barbecue

This recipe is made with chicken breasts, barbecue sauce, and onion. The chicken is slow cooked to perfection and then piled onto split, toasted buns.

23
of 35
Chicken "Divine" With Rice

Chicken breasts are cooked in a creamy, flavorful sauce. The sauce is made with condensed soup, lemon juice, and curry powder. Add some cheese if you'd like.

24
of 35
Chicken with Jalapeno Cheese Sauce

Jalapeno peppers and garlic add flavor to these chicken breasts. The chicken is baked and then smothered in a cheddar cheese sauce. Add extra cayenne pepper for more heat.

Continue to 25 of 35 below.

25
of 35
Creamy Chicken Marsala Recipe

Heavy cream adds richness to this delicious chicken with Marsala wine. Garlic, lemon juice, and basil add flavor.

26
of 35
Chicken With Garlic Cream Sauce

Mushrooms, green onions and garlic flavor the creamy sauce for these easy chicken breasts. Cream cheese is added to the sauce.

27
of 35
Lemon Chicken With Garlic and Wine

White wine, lemon juice, and garlic flavor to these simple skillet chicken breasts. Add some capers to the dish if you'd like.

28
of 35
Quick and Easy Grilled Chicken Gyros

This is an easy make-ahead meal that you can enjoy throughout the week. Serve the chicken with warm pita bread or lettuce leaves.

Continue to 29 of 35 below.

29
of 35
Simple Chicken and Rice Casserole

Toasted almonds garnish this chicken and rice casserole. Serve this dish with a simple tossed salad.

30
of 35
Crock Pot Swiss Chicken Casserole

This satisfying chicken and dressing casserole is easy to prepare and cook in a slow cooker.

31
of 35
Ritzy Chicken Casserole

This easy casserole is a popular family favorite. It's an excellent busy day meal with only 6 ingredients.

32
of 35
Chicken Piccata With Lemon and Parsley

This fabulous dish is surprisingly easy. Use chicken breast cutlets or tenders in the recipe.

Continue to 33 of 35 below.

33
of 35
Bacon and Cheddar Chicken Strips

These bacon and cheddar coated chicken strips are incredibly easy, and the taste is out of this world! Serve the chicken strips with a dip as an appetizer or as a main dish.

34
of 35
Easy Coronation Chicken

Use leftover or cooked chicken breasts in this tasty British chicken dish.

35
of 35
Savory Chicken Noodle Bake

This casserole is made with diced cooked chicken, an easy, light sauce and loads of vegetables.